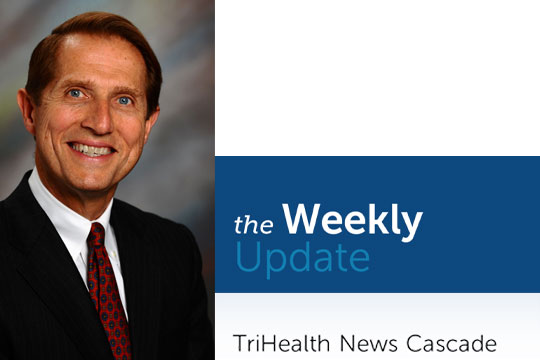 11 February, 2020
Hi Team!

Hot Off the Press – Our Mid-Year Engagement Survey Results Show Progress! Nearly 80% of team members participated in the January Pulse Survey and overall team member engagement improved by 9 points to the 59th percentile since last July. Physician engagement scores showed similar improvements. Team members told us we are making progress in nearly all of the 24 survey elements. While there is still much to do, it is encouraging to see that our renewed focus on those things team members have told us are most important – like our Total Rewards program, our High Reliability Organization (HRO) work, improved communication and more responsive leadership – are making a real difference! These improvements in team member and physician engagement not only create a better work and practice environment, but also strengthen our shared efforts to reduce harm and improve the patient experience throughout TriHealth.

Detailed system and department results will be available to your leaders later this week on the Press Ganey portal. Over the next few weeks, leaders will share both system and local results with team members and discuss how best to refine local work plans to address validated improvement opportunities. Progress updates and follow up on refined plans will be incorporated into monthly meetings to ensure we continue our progress in making TriHealth a great place to work, to practice, and to receive the best care anywhere.

Black History Month is off to a meaningful start! Not only are we recognizing the past contributions of historical African American figures this month, we're also putting the spotlight on the talents and achievements of today's influential African Americans, including many here at TriHealth. Click here to see this week's Bridge article and videos featuring current members of TriHealth's physician community.

In addition, we're taking advantage of the opportunity that Black History Month brings to engage all team members and physicians in very real and open discussions about workplace diversity, equity, and inclusion (DEI), and the role it must play at TriHealth in carrying out our mission and better serving our increasingly diverse community. You'll have the chance to participate in these values-based discussions at our first-ever DEI Forum, which will take place February 20 from 1-2 p.m. at Baldwin. African American Board Members and Champions from TriHealth, Good Samaritan, and Bethesda, Inc. will participate in the DEI Forum panel and share their first-hand experiences. For those who can't attend in person, the Forum will be live streamed to all TriHealth locations and available for later viewing through a link on Bridge. Our goal is to have every leader and their team participate in this groundbreaking event. Click here to see the speaker lineup.

Thank you for being such an important part of our work to get healthcare right – for ALL team members and physicians, and for every individual we serve!
Annual Mandatory Education Due Date Changed to October 31, 2020
After additional consideration of key initiatives and timelines, the due date for Annual Mandatory Education (AME) 2020 has been extended from April 15 to October 31, 2020. The new due date is reflected in TriHealth Learn. This extended due date will provide ample time for all team members to complete AME in TriHealth Learn by the deadline. Visit Bridge for more information.
TriHealth Welcomes our First Operation SMART Participants for 2020
We are thrilled to welcome our first Operation SMART (Strategic Medical Asset Readiness Training) participants for 2020. The SMART group consists of Medical Military Personnel who will train alongside their civilian counterparts at TriHealth for two weeks. We are excited for the opportunity to SERVE our Military through this continued partnership with the military, The Health Collaborative and other area health organizations. Learn more about Operation SMART on Bridge.
LifeStyles Weekly Health Tip
February is Eat Well month at LifeStyles, and it all starts at the grocery store! Making a grocery list ahead of time and sticking to it will help you buy only what you need for upcoming meals. Otherwise, it's easy to pick up less healthy items solely because they catch your eye. And if nothing else, avoid shopping while hungry!
Weekly Huddle Message: When & How to Ask Clarifying Questions
Good thinking starts with a questioning attitude! Make sure to ask questions in high-risk situations, when information is incomplete or ambiguous, or if you are just unsure. Use the "codeword" safety phrase "Let me ask a clarifying question…" and ask politely and professionally. For more information, check out this one-pager or see more information on Bridge.
Overall Rating: