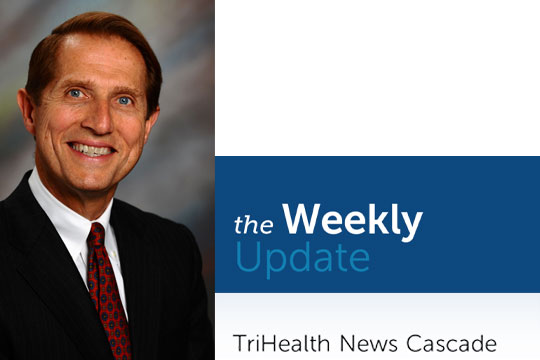 19 August, 2019
Hi Team!
In last week's Update, I introduced two new initiatives we're launching this month to inspire positive change and improve the lives of our community in ways that reach beyond our traditional longstanding healthcare mission. I also provided details of the first of those initiatives – our new School-to-Work Program. This program provides career development opportunities and mentoring by TriHealth team members and physicians to 50 students from Cincinnati Public Schools (CPS) over the next three years (click here to learn more).
Today, I'm excited to share highlights of another innovative community program which we are calling "Early Learning City." This program aims to educate new parents on the importance of the spoken word and human interaction in fostering early brain development in their newborns. Research has shown that the first three years of life is the most important time for brain development and the spoken word—in fact 45 million words in the first three years—are essential for brain development and for preparing a child for readiness in school and success in life. So this month, TriHealth—the region's largest and most respected provider of maternity and general pediatric services—will integrate early brain development teaching into pre-natal and post-partum parent education classes. And to better support parents, we will provide them with a "Brain Bag" in the hospital or at their child's first well visit. This "gift with a purpose" includes Baby Steps, a baby development book that can be personalized to track milestones; Fiona's Feelings, a storybook; along with a TriHealth information booklet, with talking tips and local resources, to educate on the power of parent talk in the early development of their child's brain. TriHealth Pediatrics providers will also incorporate "Early Learning City" parent teaching and reinforcement into the 11 well visits during the first three years of life along with regular developmental assessments. (Click here to lean more).
One Campaign: Adopt Rubber Ducks for a Good Cause and Receive a Prize!
Thanks to your support of the One Campaign, TriHealth is able to support the Freestore Foodbank's 25th Annual Rubber Duck Regatta (September 1 at 3 p.m.). All dollars raised from the Regatta will go directly toward providing meals for hungry children and families in our community. Visit Bridge to learn more about prizes and how to adopt a duck to help our communities.
2019 Team Member and Volunteer Picnic This Sunday!
We are looking forward to seeing you this Sunday, August 25 at Coney Island for the team member and volunteer picnic at Coney Island. For more information on how to park and enter Coney Island or a schedule of what is happening during the day, visit Bridge.
LifeStyles Weekly Health Tip
Trying to include more physical activity in your week? LifeStyles runs five fitness centers across the TriHealth system, and Team Members can join for $2.50/pay period! This membership includes access to all five centers, group fitness classes, and individualized programming designed to help you reach your goals! Call 346 5140 with any questions. Download membership paperwork here if interested.
It's Even Easier to Participate in Ride Cincinnati
To make it easier for you to participate in Ride Cincinnati, we are now offering all participating team members the opportunity to register additional family members for only an additional $100 fundraising goal per person; the ability to use PTO to satisfy your fundraising commitment for yourself and all family members; and, a chance to receive a free jersey for all team members and their family members who ride 26 or more miles. Learn more on Bridge and join us on this fun ride!
Weekly Huddle Message: Remembering Our SERVE Values
SERVE (Serve, Excel, Respect, Value, Engage) is a reminder to our team members – and a promise to our community – that every thought, every action and every outcome at TriHealth is rooted in our values. As we continue our sacred work each day, we should always be thinking about how we can best SERVE others, from our patients to other team members.
"The purpose of human life is to serve, and to show compassion and the will to help others." – Albert Schweitzer
Overall Rating:
Comments:
Very Happy to see our involvement in early child development. This means so much to their lives and future. Keep up good work.
Posted by: Pamela Mitchell on 21 August, 2019

Love the " Early Learning City" initiative !! What a difference that can make.
Posted by: Team Member on 21 August, 2019

great idea for newborns, the gift packet is going to provide new parents with start off tools to enhance their baby's development early on and encourage them to read to the child which is so essential. Good Samaritan does a wonderful job helping parents to provide for the welfare of their child from prenatal care on.
Posted by: Carol Handorf on 20 August, 2019