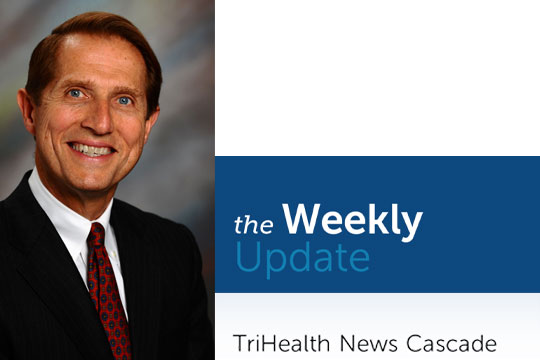 04 November, 2019
Hi Team!

I'm happy to share several updates this week about TriHealth's Total Rewards Program and our commitment to help you – our team members – live happy, healthy and productive lives so you can better care for yourself, your loved ones and those we serve.

Fall Open Enrollment Begins Today: Our Fall Open Enrollment period officially kicks off today and runs through Friday, November 15, 2019. Unlike some previous Open Enrollment cycles, this year you must actively participate in enrollment if you want to have TriHealth benefits coverage in 2020. The benefits you elect during this enrollment period will be in effect from January 1 through December 31, 2020. As announced earlier this year, we are transitioning to a calendar-year benefits program to make it simpler for team members to track and manage their annual benefit expenses for tax reporting purposes, and to align with other calendar year-based benefits, including HSA, HRA, and Medicare.

Another exciting improvement you can look forward to during this year's Open Enrollment is the availability of our new high-quality, affordable medical plan, "Blue Connection," which we announced last month. Blue Connection was developed through an exclusive partnership with Anthem Blue Cross Blue Shield (the nation's second largest health insurance company and largest in Greater Cincinnati) and will replace our TriHealth Benefit Solutions (TBS) plan options. TriHealth team members will be the first in Southwest Ohio to have the opportunity to enroll in this innovative health insurance plan, which is built around TriHealth's comprehensive provider network, and includes our partners Cincinnati Children's and St. Elizabeth. Health plan and benefit options will be nearly identical to existing plan options offered through TBS.

Visit HR Central to review and enroll in the benefit plan options that best meet your family's needs for 2020. The TriHealth Total Rewards team is providing numerous opportunities for you to attend information sessions to learn more about the 2020 benefit options. Refer to the schedule on Bridge to review session times and locations.

Living Wage Rate and Transition Timeline Accelerated: Back in June, we announced our decision to gradually transition TriHealth's minimum wage to a $14/hour "living wage" in stages over the next two years and challenged other health systems to follow suit. Because other local health systems followed TriHealth's lead to implement a living wage, coupled with our commitment to maintain highly competitive wages for our team members, I'm pleased to announce that TriHealth will immediately transition to the full $14/hour living wage beginning in January 2020. I'm even more excited to announce that TriHealth decided to go a step further and increase our living wage transition to $15/hour by the end of 2020!

As the fourth largest employer in the region, we are proud to make these important improvements to our Total Rewards Program, all to help support the total health and well-being of our more than 12,000 valued team members. We are also proud to have played a role in raising awareness and leading the way to a living wage within our community. Thank you for all you do in support of our work to get healthcare right – because of you we are becoming a model health system that others are following!
Ob-Gyn Center at Good Sam Hospital Breaks Ground
Last week, TriHealth's OB-GYN Center at Good Samaritan Hospital, formerly the Faculty Medical Center, broke ground on a transformation to better serve our Obstetrics and Gynecology patients. TriHealth leadership and Good Samaritan Hospital perinatal teams came together to celebrate this milestone. This evolution is made possible through generous grants from bi3 and CHI, which will include a new location within the Good Samaritan Hospital campus and a transformed model of care designed to better serve patients. Learn more on Bridge.
Giving to One Campaign: YOU Choose Where Your Funds Go
Thanks to you – our team members and physicians – we've raised over $605,000 for One Campaign! We are at 74% of our participation goal! Remember – One Campaign means you donate one time each year, but you still choose exactly where your gift will go. Visit One Campaign to improve the health and wellbeing of those most in need by making your gift today!
TriHealth Corporate Policy Update
All TriHealth team members are required to review and understand all Corporate Policy revisions. Click here to download a summary of Corporate Policy Updates. To view full policies, please access TIPS from the Bridge homepage. If you maintain an aqua TriHealth Corporate Policy binder please discard the previous version of these policies, print the current version of policies from TIPS and insert them in the binder.
LifeStyles Weekly Health Tip
Still need to complete your Biometric Screening for your 2019 LifeStyles Scorecard? Attend one of the LifeStyles Biometric Screening Events this month! We will be at Bethesda North, Baldwin, Good Sam, Good Sam Western Ridge, and Norwood in the month of November. Log onto the Wellness Portal at www.trihealthlifestyles.com to see the schedule and sign up today!
Weekly Huddle Message: Phonetic & Numeric Clarification
When we're giving instructions or reporting back to someone, it's important that both the sender and receiver of information are on the same page, or even better, the same letter! Phonetic and Numeric Clarification are important Safety and Reliability tools to ensure accuracy during communication, especially for sound-alike numbers and letters. For example, "B" and "D" sound similar, so you can clarify by saying "that's B as in Bravo" and "D as in Delta." For numeric clarification, 15 would be "one-five," and 50 would be "five-zero."
Overall Rating:
Comments:
How about reasonable cost of living increases for long term, excellent employees?
Posted by: Team Member on 22 November, 2019

the living wage idea will attract more quality candidates.
Posted by: Haywood Jones on 11 November, 2019

Awesome that the living wage rate is going up! It truly will be a living wage! Yay TriHealth!
Posted by: Mary Godby on 08 November, 2019

The living wage is awesome. Is it just for new hires or anyone making under the $14.00
Posted by: Team Member on 08 November, 2019

Will this effect the current employees that are currently very close to the new Living Wage Rate after years of service?
Posted by: Pamela Leidenbor on 07 November, 2019

The Living Wage Rate is a Win Win for our employees and Trihealth!
Posted by: Kimberli Lang on 05 November, 2019