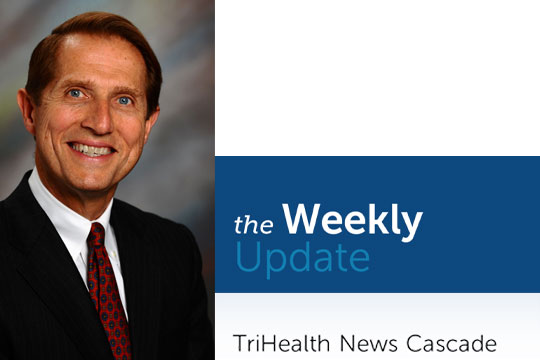 25 November, 2019
Hi Team!

We have another exciting win or milestone to celebrate on our journey to get healthcare right – right care at the right time in the right location to deliver the right outcome! Bethesda Inc.'s grant making arm – bi3 – has again partnered with TriHealth to help transform healthcare by awarding TriHealth a $3.84 million grant to fund the development of TriHealthNow! TriHealthNow is an innovative, new telehealth program we're creating to provide patients in the Greater Cincinnati community with even greater access to TriHealth care when and where they need and want it.

"Telehealth," simply put, is providing patients remote access to healthcare by means of modern telecommunications tools. TriHealthNow will enable patients to easily meet with and be treated by physicians remotely, wherever patients are located and whenever there is a need. Healthcare consumers are increasingly seeking access to medical providers and healthcare on their own terms – when, where and how they want it, and for some, that means by way of their smartphone or other smart devices. TriHealthNow will provide convenient access to TriHealth's trusted clinicians and it will be fully integrated into our comprehensive network of primary care practices, Priority Care centers and our soon-to-be-launched retail "walk-in" clinics at Walgreens. Together, this network will offer our community a range of flexible and convenient care options to meet every health situation and personal preference.

TriHealthNow will launch in phases beginning in the first quarter of 2020 with TriHealth team members, businesses and the broader community. The platform is supported by Teladoc Health, a global expert in telehealth. TriHealthNow will be staffed by TriHealth physicians, with backup by Teladoc Health's national network of online board-certified physicians as needed to ensure timely access.

This is another game-changing initiative to expand and enhance access which is made possible through our ongoing partnership with bi3. TriHealth is grateful to have a partner like bi3 that shares our passion for advancing innovative solutions that bring patients greater access to better care – all to improve the overall health of our community!
Enjoy a Holiday Celebration Meal
This December we are celebrating the holidays together! It's important that we take the time to come together as a team and celebrate TriHealth's significant accomplishments, made possible by our dedicated team members, physicians, and volunteers. One way we do that is through our annual holiday team member meals! Visit
Bridge
for the Holiday Meal schedule.
Giving Tuesday 2019

Please join us this holiday season in making the season bright for our patients, team members and community members! Your gift to One Campaign supports those in need during the holidays – click
here
to give online today through December 3, Giving Tuesday. And don't forget that your unused PTO can be turned into a cash gift! It's easy - simply visit
One Campaign
to get started. Thanks to all those who have supported the 2019 One Campaign!
Pillar Performance Update
Each moth the analytics team assembles a report for each pillar goal's performance over the past month in a format that is easy to read and understand. Visit
Bridge
to download a PDF report to share with team members.
TriHealth Goes Live with First New Analyzer
TriHealth Laboratories is in the process of upgrading several analyzers using the newest FDA-approved technology to provide accurate results faster, including reducing turnaround times on difficult specimens. The first analyzers to go-live were Iris iQ Workcells used to test and result Urinalysis and Body Fluid Cell Counts. Last Monday, the labs at Bethesda North, Good Samaritan, and Bethesda Butler started using these analyzers on TriHealth patient specimens. This is the first of many new analyzers that will be put into production over the next several months!
Operation SMART Declared a Success!

That's a wrap on a successful Operation Cincinnati SMART (Strategic Medical Asset Readiness Training). TriHealth welcomed 31 Medical Military Personnel in 2019, including eight students in the November rotation. Visit
Bridge
to read more about the program and it's impact.
LifeStyles Weekly Health Tip
Take calm-down breaks. Whenever you get stressed out, anxious or feel overwhelmed during the day, take quick relaxation breaks of 1 to 5 minutes to calm yourself down. Conscious, slow breathing can help you when you're feeling frustrated waiting in line at the supermarket, post office or drug store.
Weekly Huddle Message: Using Read Backs
Reading a message back to someone is a great way to confirm you heard the information correctly, and this tool can be used beyond our TriHealth walls. With the frenzy of cooking and baking for Thanksgiving dinners this week, try reading back the recipes to ensure all of your dishes are made perfectly. Using a teaspoon versus a tablespoon can be the difference between the best pumpkin pie or a salty disaster!
Overall Rating: