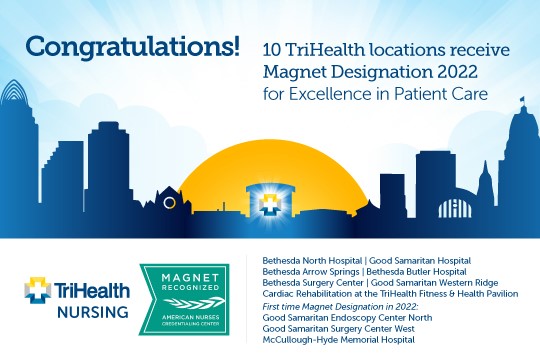 July 27, 2022
The American Nurses Credentialing Center (ANCC), the largest and most prestigious nursing credentialing organization in the United States, has awarded TriHealth with Magnet designation for excellence in nursing care at ten TriHealth locations!
Three of the ten locations achieved Magnet designation for the first time– McCullough-Hyde Memorial Hospital, Good Samaritan Surgery Center West, and Good Samaritan Endoscopy Center North.
The seven TriHealth locations achieving Magnet re-designation are Bethesda North Hospital, Bethesda Butler Hospital, Good Samaritan Hospital, Bethesda Arrow Springs, Bethesda Surgery Center, Good Samaritan Western Ridge, and Cardiac Rehab at the Pavilion. This marks the third time TriHealth has achieved Magnet status with re-designated locations being awarded previously in 2012 and 2017.
After a successful documentation phase including two virtual site visits of our Bethesda North and Good Samaritan regions, six days of interviews with nearly 1,000 team members, and tours of almost 100 units, this designation validates our organization's commitment to excellence in patient care and places us among the nation's most elite healthcare systems.
Magnet recognition is a much-sought-after distinction for health care institutions that recognizes quality patient care, nursing excellence, and innovations in professional nursing practice. Roughly 9.4 percent of U.S. hospitals and 13.8 percent of Ohio hospitals have achieved Magnet status, and even fewer have achieved Magnet designation as a system, as TriHealth has. Magnet status is recognized for a four-year period before re-designation is required.
"The ANCC's continued recognition of TriHealth's more than 3,000 nurses is an honor," said Jenny Skinner, TriHealth's Chief Nursing Executive. "I am truly proud of each of our nurses, particularly in light of their selfless sacrifices as they battled COVID-19 throughout the last two and-a-half years. Every day our nurses continue to face the pandemic on the front lines, doing everything necessary to ensure exemplary care for patients. I am also thankful for the TriHealth physicians and team members who support our work."
Overall Rating:
Comments:
Great job !
Posted by: Lynn Spaeth on August 08, 2022
Reply/View Reply
Keep up the good work!!!
Posted by: Cassandra Posey on August 05, 2022
Reply/View Reply
I am so proud to be a part of GOOD SAMARITAN FREE HEALTH CENTER and having my entire nursing career with GOOD SAMARITAN HOSPITAL!
Posted by: Sandy Gleeson on August 01, 2022
Reply/View Reply
is magnet status only done every 5 years?
Posted by: Margaret Reininger on July 27, 2022
Reply/View Reply
Congratulations, this is Awesome!
Posted by: Cathy Lohmueller on July 27, 2022
Reply/View Reply
Congratulations, this is Awesome!
Posted by: Cathy Lohmueller on July 27, 2022
Reply/View Reply
So proud of everyone!
Posted by: Sharon Brehm on July 27, 2022
Reply/View Reply