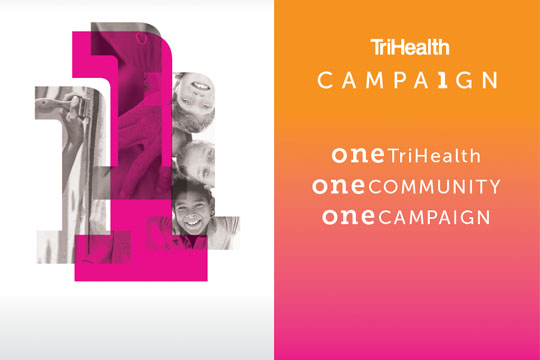 21 September, 2020
This year has brought unprecedented challenges and unforeseen hardships to our community, our patients and our team members. We recognize that now more than ever, we need to support community organizations and initiatives that are helping our loved ones, colleagues and community members through these tough times. The Good Samaritan Foundation, Bethesda Foundation, McCullough-Hyde Foundation, United Way and ArtsWave have been working tirelessly these past six months to provide hardship relief to all those in need, and we're excited to open One Campaign this year to assist these great organizations who are lifting up so many of our team members and those in our community.
The opportunity to give is now available to those who wish to support the causes and initiatives that matter most to them; however, there will be no official campaign this year. This means no events, no competitions and no prizes. It also means no expectations of giving for team members at TriHealth. Give if you can, and if you need assistance from the Team Member Resource Center for any reason click here to get started.
Choose an organization below to begin your gift today! We're also excited to once again partner with Ride Cincinnati to raise money for our Cancer Institute – click below to begin the registration process for Mark's virtual team and ride at your convenience! No registration fees and no minimum fundraising goal, plus a cool TriHealth bike jersey for all those who register and ride.
If you have questions about One Campaign or need assistance with your donation, please contact OneCampaign@trihealth.com.
Good Samaritan Foundation
Mission: The Good Samaritan Foundation secures philanthropic support for programs and projects that promote exceptional healthcare, preventative initiatives, education, research, and community outreach activities provided by Good Samaritan Hospital and its related entities.
Bethesda Foundation
Mission: The Bethesda Foundation secures philanthropic support for Bethesda Hospitals, Hospice of Cincinnati and Fernside: A Center for Grieving Children. The Bethesda Foundation connects people with their desire to improve the quality of life for patients and families by giving our caregivers the resources they need to provide best in class care.
McCullough-Hyde Foundation
Mission: The McCullough-Hyde Foundation raises resources to enhance the scope and quality of healthcare available to the greater Oxford area.
United Way
Mission: To unite communities to change lives so that everyone has the opportunity to thrive.
https://trihealth.uwgc.stratuslive.com/
ArtsWave
Mission: Fuel Cincinnati's growth as a recognized leader, continuous innovator and the nation's largest community campaign for the arts.
https://trihealth.artswave.stratuslive.com/
Login: TriHealth ID (no initials)
Password: last four of social with '000' added at the end
Contact help@artswave.org if you need any assistance with your donation.
Ride Cincinnati
Mission: A grassroots bike tour that raises money for life-saving cancer research and care.
https://ridecincinnati.org/rider/peloton/438
Overall Rating:
Comments:
I have attempted to donate to United Way and ArtsWave and in neither site can I get logged in. Any help would be appreciated.
Posted by: Melinda Martino on 28 September, 2020
Reply/View Reply