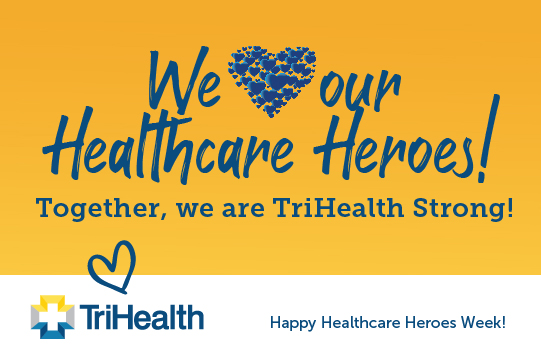 13 September, 2020
This year, even more than most years, our TriHealth team members, nurses, physicians, residents, and volunteers deserve to be honored.
We cannot thank you enough for all you do on the front lines and behind the scenes to ensure our patients receive quality care, our facilities are safe and clean, and all our team members come to work ready to serve our community.
As an extension of our delayed Healthcare Appreciation Week, we are celebrating TriHealth Healthcare Heroes Week – a system-wide celebration of ALL our team members, both caregivers in our hospitals and the more than 140 clinical and support service sites. We are all healthcare heroes, no matter where or how we contribute to TriHealth's mission to SERVE our community.
Throughout the week of September 14, we want to acknowledge and thank all of our TriHealth healthcare heroes for their dedication, sacrifice, and commitment to continue to show up and provide safe, quality care to our community during the COVID-19 public health crisis and every day.
Because of the on-going pandemic, our celebration this year must look and feel different, but we hope you still feel valued and appreciated.
TriHealth Healthcare Hero Recognition – Between September 14-18, you can nominate a co-worker as a Healthcare Hero by submitting a short description of their heroic efforts. Winners will be selected to receive a frontline hero pin and Appreciation Station points for the prize of their choice. Each team member who nominates one of these winners will also receive a gift. Click here to nominate a Healthcare Hero.
"Thank You" Meal Voucher from LaRosa's – While we would prefer to gather our team members, nurses, physicians, residents, and volunteers for a celebratory meal to thank you for your hard work over the past few months, and all year long; we recognize that times are different and our meal celebration must look different, too.
To prioritize the health and safety of our team members, we have worked with LaRosa's to send a voucher code to your TriHealth email for one free large, one-topping pizza. Check your TriHealth email for an email from LaRosa's sent on Monday, September 14 around 4pm.
Use the hashtag #theTriHealthWay and tag @theTriHealthWay and @LaRosasPizzeria on Facebook to share a photo of you and your loved ones enjoying the pizza – on us!
TriHealth Healthcare Hero T-shirt – Every team member will receive a TriHealth Healthcare Hero t-shirt, modeled by the leadership team during the August and September team member town hall meetings. Click here between September 14-25 to place your t-shirt order.
And we aren't alone in celebrating our Healthcare Heroes. Click to see a Who Dey thank you from the Cincinnati Bengals head coach Zac Taylor and homerun appreciation from the Cincinnati Reds radio announcer Tommy Thrall.
The Cincinnati Zoo & Botanical Garden is offering healthcare workers free admission for the entire month of September. Your TriHealth ID badge and a valid government-issued photo ID must be presented when picking up your tickets. You may purchase up to six additional tickets at half price. For more information, visit www.cincinnatizoo.org.
Your selfless commitment to our community during this pandemic has been unmistakable, and we are so thankful for your dedication and sacrifices, now and always!
Overall Rating:
Comments:
Thank You
Posted by: Saundra Vaughn on 25 September, 2020
Reply/View Reply
Thank You !
Posted by: Melinda Johnson on 22 September, 2020
Reply/View Reply
Thank you!
Posted by: Tina Palmer on 21 September, 2020
Reply/View Reply
Thank you Tri Health!
Posted by: Team Member on 17 September, 2020
Reply/View Reply
THANK YOU
Posted by: Gwendolyn Hutcherson on 17 September, 2020
Reply/View Reply
Thank you for these gifts!
Posted by: Team Member on 17 September, 2020
Reply/View Reply
thank you Trihealth for all the perks.
Posted by: Team Member on 16 September, 2020
Reply/View Reply
Thanks so much for your leadership through the pandemic!
Posted by: Nancy Carroll on 16 September, 2020
Reply/View Reply
:)
Posted by: Kathryn Wilson on 16 September, 2020
Reply/View Reply
THANK YOU VERY MUCH!!!!!!!! PROUD MEMBER OF TRIHEALTH
Posted by: Mary Cartaino on 16 September, 2020
Reply/View Reply
Great recognition items. Ive been seeing Trihealth branded face masks on some people. Where are they coming from and how do we get one?
Posted by: Millisa Billingsley on 16 September, 2020
Reply/View Reply
Thank you for the recognition and appreciation
Posted by: Deborah Montgomery2 on 14 September, 2020
Reply/View Reply