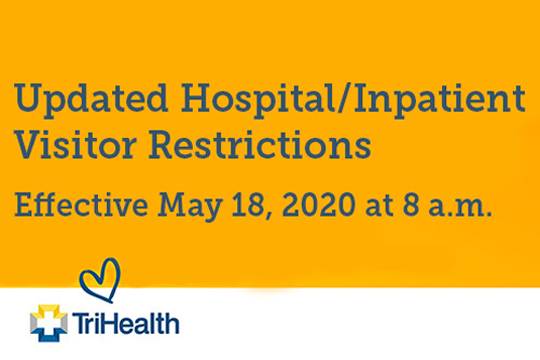 18 May, 2020
As our situation caused by the COVID-19 health emergency evolves, so does our response. For the safety of our patients and team members and to continue to limit the spread of COVID-19, one visitor is allowed per patient per day in the hospital/inpatient setting.
1 visitor will be allowed in the hospital setting with the following stipulations:

Visiting hours are 9 a.m.-7 p.m. at each facility.
Only a single person may visit each day (visitors cannot swap in/out throughout the day).
Visitors are required to wear a mask at all times – NO EXCEPTIONS.
Visitor must be 16 years or older.
Visitor must be screened for COVID-19 symptoms. If symptoms are present, visitor will be denied entry to the facility.
Potential visitors should review CDC and ODH guidelines for individuals with advanced age and chronic medical conditions and avoid visiting hospital if these apply.

COVID-19 positive or suspected-positive patients will not be allowed a visitor, unless they are at the end of life.
The following exceptions apply:

Patients at the end of life will be allowed more than one visitor at a time.
Pediatric patients may have both parents accompany them at all times (2 visitors max).
Maternity patients may have a support person with them at all times.
Psychiatric patients may have necessary visitors, per their physician's recommendation.
If a patient has a special circumstance, additional exceptions may be allowed. Please speak with your care provider for guidance.
For helpful documents and the most up-to-date information, visit the COVID-19 Resources page.
Overall Rating:
Comments:
Awesome!
Posted by: Kimberli Lang on 10 June, 2020
Reply/View Reply
Thank you to all the TriHealth Team Members that have made all the Covid-19 updates available in such a timely fashion over these past few months.
Posted by: Sandra Ott on 02 June, 2020
Reply/View Reply
Is it true that a COVID Positive visitor was allowed to visit a patient on Labor and Delivery floor (3100) on 5/20/20. Were the area and personnel properly protected? Was the patient room sanitized after the visit according to protocol? All this understanding that such a visitor did go to that floor.
Posted by: Dennis Romans on 20 May, 2020
Reply/View Reply