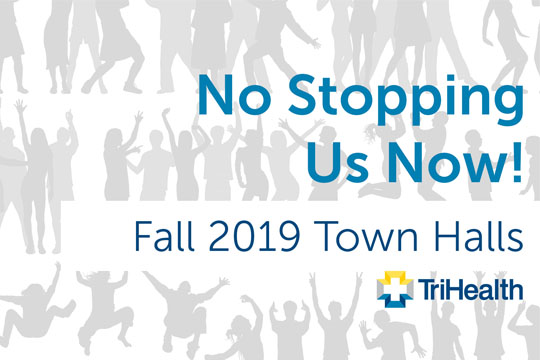 12 September, 2019

As we head into year 4 of our transformational journey, we have several successes to celebrate and new goals to achieve. Because of your dedication to help TriHealth be the best health system in the region and provide the safest and most reliable healthcare, there's no stopping us now!

Your leaders want to share recent wins with you and hear what's on your mind, so please plan to attend a session in the next series of Town Halls. Complete schedules for each location can be downloaded below.

During the Town Hall sessions you'll learn about the system priorities for FY20 and hear about local initiatives that will enable us to improve and accelerate our performance as we work to get healthcare right for those we serve. A few topics you might hear about at your Town Hall include:
Milestones in Our Journey and Local Wins
System and Local Growth
Community Initiatives
"Vital Few" Few Pillar Goals – The Why
Meet Your System and Local Leadership
Local Updates
Open Q&A
Town Halls offer the opportunity for all of us to connect with each other, share our successes and challenges, and begin the new fiscal year with renewed energy and purpose to deliver the best possible care to those we serve. Together, we are changing the way healthcare is delivered!
Download Town Hall Schedules
Good Samaritan Hospital and Western Ridge
Good Samaritan College of Nursing
McCullough-Hyde Memorial Hospital
TPP (Practice Physicians & Team Members) and Ambulatory
Hospice – please check with your local leader for schedule
Overall Rating:
Comments:
I'm glad that I went , It was very interesting and informative!
Posted by: Team Member on 07 October, 2019

Will any be able to be viewed online?
Posted by: Susan Duncan on 19 September, 2019

When is Norwoods?
Posted by: Lisa Ohmer on 18 September, 2019