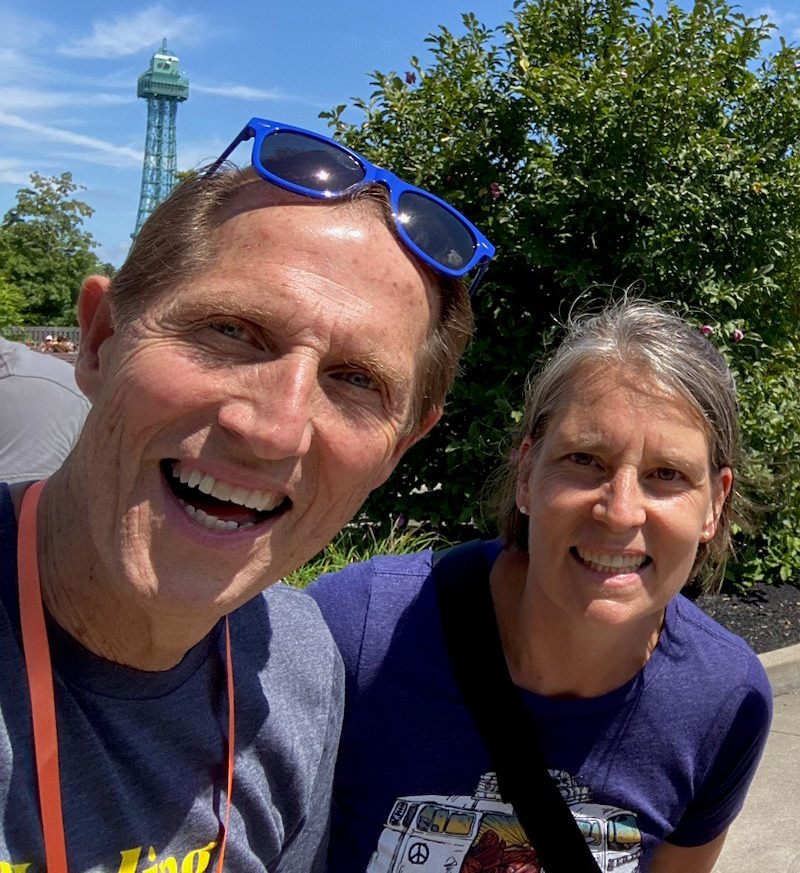 September 11, 2023
Amy Kimble's day at the gym began like any other.
Amy, who has worked as a nurse for 30 years and has been a TriHealth team member for 19, arrived at the Sharonville Community Center for a cycling class. Before class began, a friend asked if she could help assist another fitness patron who was having a medical problem.
Amy (pictured to the left with TriHealth President & CEO Mark Clement) walked out to the pickleball courts where she saw a man on the ground in cardiac arrest as one of the community center employees administered CPR.
Her training kicked in: She immediately grabbed an AED device, which confirmed the man's heart needed a shock. Once that was delivered, Amy began assisting with CPR until the man was revived and taken to Bethesda North Hospital.
In all, the event lasted about 20 seconds.
"Everything was just instinct," Amy said. "It happened so quickly, and somehow I just knew what to do."
Amy is a care coordinator with TriHealth's Blood and Cancer Institute and spends much of her time as a nurse navigator working with cancer patients. Her previous roles included work as a charge nurse and clinical nurse leader, and she is vigilant about renewing her CPR certification every two years, as required. Still, despite her training and experience, this was her first time running point on reviving a patient in cardiac arrest.
"To me, it's my duty as an RN, to serve," she said. "And TriHealth has instilled that in me. To me, that's what I'm supposed to do."
Amy visited the man she helped save during his admission at Bethesda North, and the pair have kept in contact. She is grateful for the connection they have, and thankful that the community center had all of the equipment necessary to ensure members' safety.
"It's really the AED that saved his life. It's lucky that it was available," she said.
Overall Rating:
Comments:
BRAVO AMY!
Posted by: Sandy Gleeson on September 18, 2023
Reply/View Reply
Congratulations Amy! Right place, right time. Cool under pressure. I'm sure this man and his family are forever grateful.
Posted by: Kathleen Ostermann on September 14, 2023
Reply/View Reply
Great work Amy, so thankful you were at class that night!!
Posted by: Helene Everhart on September 14, 2023
Reply/View Reply
Great job Amy!!! You are a hero!!
Posted by: Kathryn Waycaster2 on September 13, 2023
Reply/View Reply
Amazing!! Great work Amy!!
Posted by: Kelly Gilton on September 13, 2023
Reply/View Reply
awesome job!!
Posted by: Eileen Cash on September 13, 2023
Reply/View Reply
thank God you were there and had the training to help this man!
Posted by: Dianne Lindsey on September 13, 2023
Reply/View Reply
WAY TO GO AMY !
Posted by: Deborah Hanning on September 13, 2023
Reply/View Reply
AMAZING! Great Job Amy!! :-)
Posted by: Bridget Oyer on September 12, 2023
Reply/View Reply
Thank you, Amy, for being in the right place at the right time. I know you personally and can attest that you would be the right person to take care of someone in an emergency or anytime. You are simply amazing!
Posted by: Janet Meister on September 12, 2023
Reply/View Reply
Thank you Amy, May God bless you for your work. Madonna Schwab
Posted by: Madonna Schwab on September 12, 2023
Reply/View Reply
Way to go Amy, you are a true HERO!!
Posted by: Constance Kellard on September 12, 2023
Reply/View Reply
Hey there Amy, I miss seeing you on 5300. Great job!!! Of course you knew what to do, you are such an asset to the Trihealth team! I Hope you and the family are well :)-Lisa Clements (Clinical Documentation Specialist)
Posted by: Lisa Clements2 on September 12, 2023
Reply/View Reply
Hey there Amy, I miss seeing you on 5300. Great job!!! Of course you knew what to do, you are such an asset to the Trihealth team! I Hope you and the family are well :)-Lisa Clements (Clinical Documentation Specialist)
Posted by: Lisa Clements2 on September 12, 2023
Reply/View Reply