September 05, 2023
Hi Team –
I hope you had a fun and relaxing Labor Day weekend and were able to enjoy the near-perfect hot and sunny, end-of-summer weather!! And a special thanks to our team members and physicians who worked throughout the long weekend to continue serving our patients across the region!
And while it's always a little sad to say goodbye to summer, we have so much to look forward to and be excited about this fall! We get to cheer on the start of the Cincinnati Bengals' season and the prospects of both FC Cincinnati and the Reds in the playoffs – all while we continue our "mission-driven" work to Get Healthcare Right for every patient we serve, always!!
Getting Healthcare Right
One Campaign Kickoff
And speaking of our mission, as a faith-based organization – and as Cincinnati's third-largest employer – TriHealth has the opportunity to make an even larger impact, in addition to our core mission of improving the health of those we serve. Our mission also calls on us to help the members of our community thrive in all aspects of their lives! And this can be "seen, felt, and heard" in so many important ways, including through the TriHealth Way, our Always Behaviors and SERVE Values, our Health Equity work, and investments in vital, underfunded healthcare services, like behavioral health and precision medicine – to name just a few!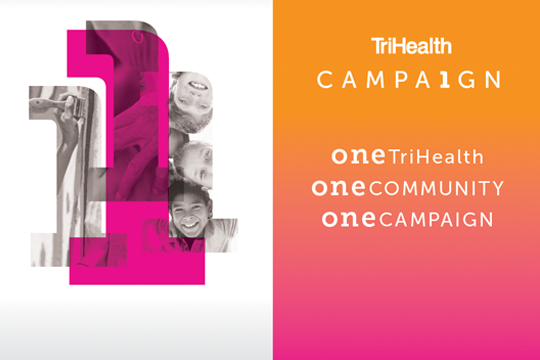 Another important way we bring our mission to life is through
TriHealth's One Campaign
– our annual, unified system-wide fundraising initiative – which, this year, will run through Friday, October 27.
Now in its fifth year, the One Campaign combines TriHealth's three system-giving priorities – United Way, ArtsWave, and our Foundations (Bethesda, Good Samaritan and McCullough-Hyde) – into a single campaign, providing team members and physicians a convenient and easy way to support these important philanthropic causes!
By participating in the One Campaign together, we are improving the community we all call home and advancing our shared mission of compassionate healing and service to all. Every donation, no matter the amount, will help improve access to healthcare and health-related resources, reduce hunger, provide educational scholarships for nurses, social workers and other healthcare professionals, enrich our community's arts and culture, and support TriHealth team members in need! And remember, when you donate through our One Campaign, you are not limited to supporting the work of our Foundations. You have the option of directing your gift to whatever causes are most important to you, including supporting our community's amazing arts and culture through ArtsWave or helping those in need live better lives through financial empowerment, educational and housing assistance, and so many other programs supported by the United Way!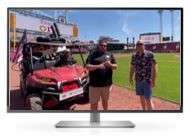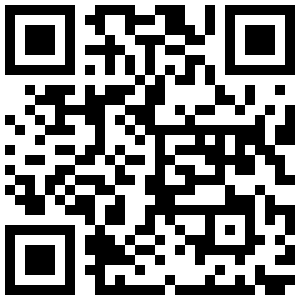 Our One Campaign committee and your leaders have A LOT of exciting activities in store for you over the coming weeks. And to get the campaign started, we are kicking things off early –
starting TODAY
– with some really cool "early bird" prizes for those who donate to the One Campaign
before September 18
. Check out this
video
from our One Campaign co-chairs,
Chad Boyd
and
Ryan Hornberger
(pictured to right), for all the details on how to get in the running for our early bird giveaways!
So please, consider joining me in making a pledge to the One Campaign today. Together, we can make a BIG difference! To pledge, simply
visit
trihealth.com/one
or
scan the QR code
to the left to make your donation online, where you can choose to give to the causes most meaningful to you.
THANK YOU!!
TriHealth Partners with the Ladies Professional Golf Association (LPGA) to Provide Event Care and Promote Women's Health
For the second straight year, the LPGA's Kroger Queen City Championship at Kenwood Country Club will take over Cincinnati this week (Sept. 6-11) – and, once again, TriHealth – along with St. Elizabeth's – will serve as the official healthcare sponsor!
TriHealth's Event Medicine team will be present throughout the tournament to provide any needed healthcare services to players and spectators. And thanks to our sponsorship, TriHealth team members are entitled to
free entry to the Championship with their TriHealth badge
– saving you the $25 ticket price!! Just show your badge when you arrive and enjoy the tournament for free – just another way to show our appreciation to the very best team in healthcare!
This LPGA tournament is also committed to showcasing Women in Leadership. So, we are excited that our sponsorship provides TriHealth's women leaders a unique opportunity to host community discussions and share expertise on women's health issues along with the amazing contributions of women leaders at TriHealth and throughout our community and nation.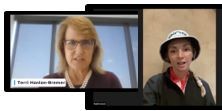 As one example, last week, TriHealth Chief Operating Officer,
Terri Hanlon-Bremer
, moderated
"Tee Up Wellness with TriHealth,"
a health and wellness webinar featuring LPGA star
Maddie Szeryk
(pictured to right). Participants heard from Maddie on how she maintains her physical and mental health on and off the course. And TriHealth Employee Assistance Program (EAP) Supervisor
Patty Banks
and LPGA Dietitian
Siobhan Donofrio
offered insights on diet and wellness practices to help our community thrive. In case you missed it,
click here
to watch the full recording (
Enter the Passcode:
!.3UZ4.K).
New Online Brand Store Now Open
It was wonderful to see a "sea" of TriHealth team members proudly wearing their Healthcare Heroes T-shirts at our recent Team Member Celebration at Kings Island!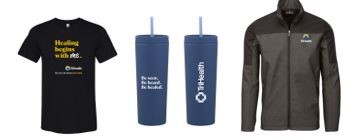 Team members often ask how they can purchase TriHealth-branded apparel and other items to proudly represent TriHealth at home and in the work setting. We have heard you, and in response, I am pleased to share we've just opened a new
TriHealth Brand Store on Bridge
to make it easier to purchase our "TriHealth swag."
We will be passing along to our team members best pricing for popular, high-quality branded items our team members often ask for, including apparel, scrubs, lab coats, drinkware, office supplies, custom awards and plaques, electronics and more! Be sure to check out the new online store and all the cool TriHealth gear available for you and your family! Don't forget, if you are not ready to buy cool TriHealth "swag," you can always tune into any of our Monthly Town Halls and enter a drawing to win free TriHealth gear each month!! And you can also stay tuned for another complimentary TriHealth Healthcare Heroes t-shirt distribution next May!!!
Annual Mandatory Education Due September 30
Foundational to Getting Healthcare Right is building and sustaining a culture of safety and reliability that supports our people in doing the "right thing in the right way" for those we serve,
always
! And one of the most important ways we can do this is to make sure we are knowledgeable of, and consistently apply, our evidence-based TriHealth Way and other clinical practices when caring for
every patient, every time
, while we also comply with all relevant regulations and laws. So, each year all TriHealth team members, medical staff, and advanced practice practitioners are required to complete Annual Mandatory Education (AME) as a refresher on important and high-risk topics that could help save a life or prevent serious harm to our team members, patients and visitors. As a reminder,
our entire TriHealth Team must complete the 2023 AME requirement by

no later than Saturday, September 30, 2023

.
If you haven't done so already, please visit
TriHealth Learn
soon to access and complete the 2023 AME before the deadline.
Thank you for everything you do to help TriHealth and our Team be the best we can be for each other and all those we serve! And GO Reds, Bengals, and FC Cincinnati!!!
Overall Rating:
Comments:
Excellent weekly information, for our TriHealth teammates! Thank you!
Posted by: Peter Wong on September 06, 2023
Reply/View Reply