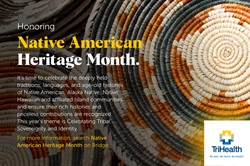 November 02, 2023
National Native American Heritage Month, held annually from November 1 through 30, honors the culture, traditions, languages, and histories of Native American, Alaska Native, Native Hawaiian, and affiliated Island communities. In 1990, Congress passed, and President George H. W. Bush signed into law a joint resolution designating November as the first National American Indian Heritage Month (also known as Native American Indian Month).
At TriHealth, we proudly celebrate National Native American Heritage Month to respectfully honor the priceless contributions and achievements of the nation's original inhabitants and their descendants. It is a time to bring awareness to the unique challenges Native American people have faced historically and learn how tribal citizens have worked to conquer these challenges. This year's theme is Celebrating Tribal Sovereignty and Identity. Tribal sovereignty ensures that decisions about Tribes regarding their property and citizens are made with their participation and consent to preserve their cultural identity.
This month, and all year long, we hope you will join us in learning more about the rich Native American culture and celebrate the contributions and achievements within your respective area that make up our health system and the community we serve.
The TriHealth DEI+B team has put together opportunities for team members and physicians to learn more about Native American Heritage Month throughout November. See below for this month's cultural activation.
Tree Planting: TriHealth's DEI+B team has contributed to the United States Department of Agriculture Plant a Tree Program to honor Native Americans' respect for nature and express our appreciation for the rich contributions of Native Americans to agriculture. Click here to learn more.
Recommended Books of the Month:
Scott Momaday: House Made of Dawn (Pulitzer Prize)
Sherman Alexie: The Absolutely True Diary of a Part-Time Indian (National Book Award)
Janet Campbell Hale: The Jailing of Cececlia Capture
William Loren Katz: Black Indian: A Hidden Heritage

Team Member and Community Features: Check back for Bridge articles to help celebrate and educate about the Native American community!
Connecting Our Work: As with other minority populations, the reasons for health disparities in the Native American community are complex, ranging from socioeconomic conditions and access to healthcare services to the environment and availability of resources. Statistics show that the average life expectancy of Native Americans in our nation is 12 to 13 years shorter than White Americans. Additionally, Native Americans disproportionately experience higher incidences of preventable illnesses such as diabetes, chronic liver disease and cirrhosis, and malignant neoplasm.

Many organizations, such as the Indian Health Services, are working to address the social determinants of health for the Native American community. At TriHealth, our Center for Health Equity understands the importance of seeing, hearing and valuing the unique circumstances of each of the communities we serve. To that end, the DEI+B team is actively building a relationship with Cincinnati's Urban Native Collective to learn how TriHealth can contribute to the health and healing of our local Native American community.
Cincinnati Native American Tribal Facts

:
Some of the most commonly known people, cultures, and tribes with origins in Ohio are Shawandasse Tula (Shawnee), Hopewell, Adena, and Myaamia (Miami).
For more information and resources, visit these sites:
• National Native American History Month Overview (U.S. Department of the Interior)
• Facebook: Office of the Assistant Secretary for Indian Affairs
• Twitter: Office of the Assistant Secretary for Indian Affairs
• Instagram: Office of the Assistant Secretary for Indian Affairs
• LinkedIn: Office of the Assistant Secretary for Indian Affairs
Overall Rating:
Comments:
I am a Choctaw Tribe member and love learning more about Native American beliefs, history, and heritages. Listening to Native American storytellers is one my my most favorite memories.
Posted by: Christina Wedding on November 16, 2023
Reply/View Reply
I am Cherokee and Shawnee and I am proud to represent Native American culture and heritage.
Posted by: Tia Little on November 08, 2023
Reply/View Reply