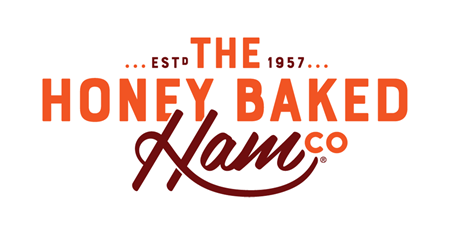 November 14, 2023
TriHealth is once again partnering with The Honey Baked Ham Company to provide all badged team members, physicians, contracted managers and volunteers with a gift certificate in celebration of the holiday season! We hope that you enjoy this meal with your loved ones as a special thank you for all you do for all those we serve.
The gift certificate will be sent to your TriHealth email address beginning November 14, 2023 and is good for one of three choices:
Honey Baked Ham Quarter
Honey Baked Turkey Breast
Two sides and a Pie
Your gift certificate includes a QR code (located in the email sent from Honey Baked Ham) which must be presented and scanned at the register in a Honey Baked Ham store to be applied to your order. You can redeem your gift certificate this Thanksgiving or any of the upcoming holidays and beyond, as this gift certificate will never expire! To help you have the best experience when redeeming your gift certificate, please review the following information:
Honey Baked Ham recommends that you place your pickup order online and select the Pay In Store option. Online orders must be placed at least 24 hours ahead of your preferred pickup date.
You are welcome to stop by a location without placing an online order ahead of time, but Honey Baked Ham cannot guarantee what will be in stock.
Please note that Honey Baked Ham stores may experience busy times of the day.
You must present your gift certificate QR code when picking up your order and paying in store. If you choose to print your gift certificate, please make sure the QR code and gift card number are visible.
Need a little more help? Check out this Honey Baked Ham Ordering FAQ.
Starting November 14, team members should receive their Honey Baked Ham gift certificate in an email under the subject line "[EXTERNAL] Season's Greetings from TriHealth and Honey Baked Ham". This email will come from The Honey Baked Ham Company "<retailservice@hbham.com>", an external email address, so remember to check your spam, junk or "Other" inbox folders and make sure the email was not deleted by mistake. Click here to find instructions for the Other inbox folder. The email has been vetted and approved by TriHealth Information Systems.
To be eligible for this Honey Baked Ham gift certificate, team members and physicians must be employed by TriHealth and hired on or before November 20, 2023, or have actively volunteered in 2022 or 2023. Those employed by organizations affiliated or partnered with TriHealth are not eligible. Those who start at TriHealth after November 20, 2023 will not be eligible for this gift certificate.
How to Place an Online Order with In-Store Pickup
Visit www.honeybaked.com
Select "Order Now" and click "Pickup"
Enter your zip code and select "Place Pickup Order" under your preferred Honey Baked Ham Location
Add your item(s) to the cart and select "Go to Checkout"
Enter your contact information. Then select "Pay In Store". Then click "Schedule Pickup" and select your preferred pickup date.
Under the Billing Information section, enter your address. This is required even if you plan to pay in store. Then click "Place Order"
Make sure your Honey Baked Ham gift certificate QR code and gift card number are accessible and ready to be scanned when you pick up your order.
Assistance and Questions
If you cannot locate your gift certificate even after checking your spam, junk or "Other" inbox folders, please email HoneyBakedGiftCardFAQ@hbham.com. Include your first & last name and TriHealth email address.
For immediate assistance or to order, contact your local Honey Baked Ham store.
If you adhere to food preparation practices that prevent you from receiving a meal option from Honey Baked Ham, please email TotallyAppreciated@trihealth.com.
Thank you to all our team members for your hard work and commitment this holiday season and throughout the entire year.
Overall Rating:
Comments:
Thank you,Happy Thanksgiving to you
Posted by: Vernon Huddleson on December 06, 2023
Reply/View Reply
Thank you very much! You made a HUGE difference! My family loves this!
Posted by: Joseph Saplis on December 01, 2023
Reply/View Reply
Thank you, TriHealth, for this generous gift! Much appreciated!
Posted by: David Goodwin on November 25, 2023
Reply/View Reply
Such a thoughtful and generous gesture Thank you!!
Posted by: Lissa Collins on November 24, 2023
Reply/View Reply
Thanks for thoughtful expression of giving thanks.
Posted by: Levi Gause on November 22, 2023
Reply/View Reply
Much appreciated!
Posted by: Mary Antons on November 22, 2023
Reply/View Reply
Thank you so much for this, my family and I will definitely enjoy this Thanksgiving!
Posted by: Team Member on November 21, 2023
Reply/View Reply
SO GRATEFUL THANKS!
Posted by: Sonja Marchant on November 21, 2023
Reply/View Reply
Nice Trihealth!!! Greatly appreciated!!!
Posted by: Theresa Decker on November 19, 2023
Reply/View Reply
Thank You so much.
Posted by: Sharon Retherford on November 17, 2023
Reply/View Reply
Thank you so much!
Posted by: Autumn Brown on November 17, 2023
Reply/View Reply
Thank You
Posted by: Carmecia Thomas on November 17, 2023
Reply/View Reply
Thanks a lot for this. I appreciate you- TriHealth Management. #Steve O.
Posted by: Stephen Ogban on November 16, 2023
Reply/View Reply
Thank you !!
Posted by: Ulela Hill on November 16, 2023
Reply/View Reply
Thank you !!
Posted by: Ulela Hill on November 16, 2023
Reply/View Reply
Thank you for your kindness not only to your staff but to your community!! Happy Thanksgiving to you and your families
Posted by: Janine Grindstaff on November 16, 2023
Reply/View Reply
Thank you!
Posted by: MichaelJeff Hill on November 16, 2023
Reply/View Reply
Thank you so much for the gift...!!!
Posted by: Shanda Reed on November 16, 2023
Reply/View Reply
Thank you for this gift!
Posted by: Annette Edmondson on November 16, 2023
Reply/View Reply
Thank you so much.
Posted by: Pamela Roth on November 16, 2023
Reply/View Reply
Very Much Appreciated! Thank you!
Posted by: Chad Quick on November 16, 2023
Reply/View Reply
Thank you once again for your "Thoughtfulness!"
Posted by: James Wynn on November 15, 2023
Reply/View Reply
Thank you so much for being so generous. Greatly appreciated!
Posted by: Carrie Hoffman on November 14, 2023
Reply/View Reply
Thanks so much, it is so appreciated. Thanks Trihealth
Posted by: Karen Alley on November 14, 2023
Reply/View Reply