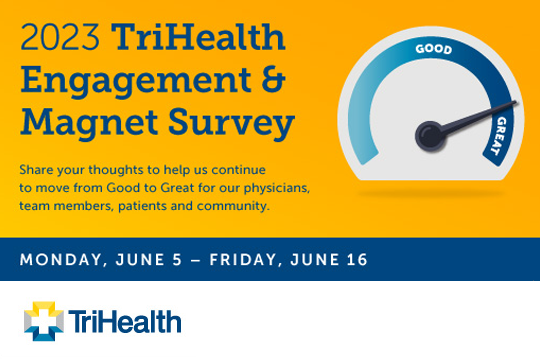 May 23, 2023
In just two weeks, we will be checking in with team members, physicians and leaders through the 2023 TriHealth Engagement & Magnet Survey. Between Monday, June 5 and Friday, June 16, we ask that you take just 15 minutes to complete the survey to share your feedback to help us make progress on where we have improved and take action on where we need to continue our efforts.
Be seen. Be heard. Be healed. Our new brand tagline doesn't just apply to our patients. At TriHealth, we are committed to listen to and utilize team member feedback to take action as we continue to move TriHealth from Good to Great. This is your opportunity for your feedback to be seen and your voice to be heard about your work experience, your leadership, the TriHealth culture and the future of the health system.
Stay tuned for more information on the 2023 TriHealth Engagement & Magnet Survey and mark your calendars for your chance to tell us how we are doing on TriHealth's journey from Good to Great!
Overall Rating:
Comments:
This survey is very much needed!
Posted by: Keira Reid on May 26, 2023
Reply/View Reply