November 04, 2022

TriHealth's One Campaign is a streamlined approach to simplify and consolidate our three corporate giving priorities – United Way, ArtsWave and our Foundations' team member campaign – into a single giving initiative each year. This year's Campaign kicked off on September 19 and will run through the end of October.
Giving to the One Campaign is your opportunity – in one simple way – to help us improve health, increase access to transportation to and from medical appointments, reduce hunger, strengthen financial stability and create educational opportunities for our team members and more than 1.5 million neighbors across our community.
Give to the causes that mean the most to you through the One Campaign. Every donation, no matter the size, makes an impact on those we serve and, each other. Together, we can improve the health and wellness of those most in need.
Congratulations to Dorionne Whitaker, NP for Pulmonary and Sleep, who is our $2,500 Grand Prize Winner!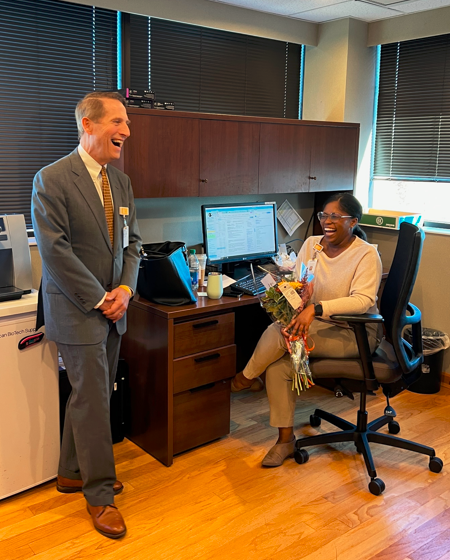 Click here to watch Mark Clement surprise Dorionne Whitaker with the good news!
Choose an organization below to begin your gift today!
Questions? If you have questions about One Campaign or need assistance with your donation, please contact OneCampaign@TriHealth.com.

If you would like to make a donation using a charitable gift fund, please email OneCampaign@TriHealth.com for instructions.
*Icon not directing you to the donation site when clicked on? Right-click the 'Click Here to Donate' icon, copy the hyperlink and paste into your Microsoft Edge or Google Chrome browser.
We would love to see photos from your FUNdraising events and activities throughout the One Campaign! Please email them to OneCampaign@trihealth.com and be sure to tag the TriHealth Way if posting on social.
Overall Rating:
Comments:
Easy to click onto this TriHealth's ONE CAMPAIGN, to donate to multiple charitable entities at ONE site. Thank you!
Posted by: Peter Wong on September 22, 2022
Reply/View Reply
Thank you for contributing and SERVING our community with your time, talents, and treasure.
Posted by: Austin Schafer on September 20, 2022
Reply/View Reply