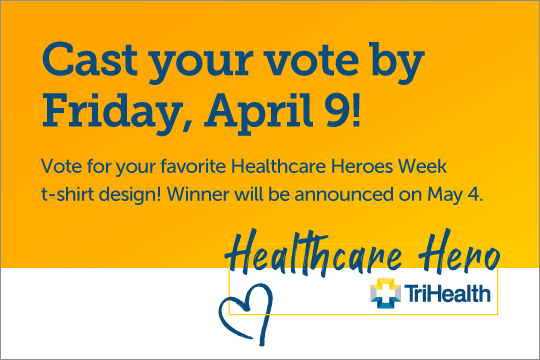 April 05, 2021
You answered our call in a major way! As part of this year's Healthcare Heroes Week celebration, our artistic team members submitted some amazing designs, and now it's your turn to choose the final design!
The team member with the winning design will have their design featured on the official Healthcare Heroes Week t-shirt and in other Healthcare Heroes collateral highlighted on Bridge and TriHealth social media channels. In addition, the winner will receive a $500 gift card* and will be awarded a framed t-shirt presented by Mark Clement at the Healthcare Heroes Week Team Member Town Hall.
The winning design concept will be sent to a professional designer for final t-shirt design production. Design modifications may be made to meet TriHealth brand standards and required t-shirt specifications.
*Gift cards are taxable. According to the IRS, gift cards for employees are considered cash equivalent items. Like cash, gift cards must be included in an employee's taxable income, regardless of the gift card amount.
Overall Rating:
Comments:
I love the gray T shirt. It is soft and comfortable. A lot of times the colored T shirts are stiff and hard.
Posted by: Theresa Almond on April 08, 2021
Reply/View Reply
Number 3 is telling the story of remember when...I like it.
Posted by: Mary Wheeler on April 08, 2021
Reply/View Reply
I'm a fan of Design #1! Congrats to all for your artistic talent and representing our organization!
Posted by: Karen Hipsher on April 07, 2021
Reply/View Reply
Love all the designs. #3 was my favorite. Would love the color of the shirt to be royal blue.
Posted by: Theresa Knapp on April 07, 2021
Reply/View Reply
Great Designs -- Good luck everyone!
Posted by: Regena Burress on April 07, 2021
Reply/View Reply
I agree- Design one is my fav(love them all) but the TriHealth (+) symbol would be PERFECT! This time Blue would be a great color change
Posted by: Jennifer Blackmon on April 07, 2021
Reply/View Reply
Great design by all.
Posted by: Ildiko Peterson on April 07, 2021
Reply/View Reply
I like design one, but what if it was in the shape of the TriHealth (+) symbol instead of a diamond?
Posted by: Chelsie Craft on April 07, 2021
Reply/View Reply
ALL OF THE DESIGNS WERE GOOD. CAN RADIOLOGY RECEIVE A SHIRT?
Posted by: Melissa Weneck on April 07, 2021
Reply/View Reply
I would like the color of the shirt changed
Posted by: Monika Booth on April 07, 2021
Reply/View Reply
The last shirt was so comfortable, I love it. All these designs are great, good luck!
Posted by: Christine Lipps-zierden on April 07, 2021
Reply/View Reply
Love, Love, Love! Great job everyone!
Posted by: Tiffani Schmitz on April 07, 2021
Reply/View Reply
Great designs by all
Posted by: Kimberly Tingle on April 07, 2021
Reply/View Reply
I would like the t-shirt color to change. Gray is very drab.
Posted by: Renee Rooth on April 07, 2021
Reply/View Reply
I would like the t shirt color to change. Either white or dark blue. Our last ones were gray.
Posted by: Team Member on April 06, 2021
Reply/View Reply
Good luck everyone! :)
Posted by: Cynthia Eisenberg on April 06, 2021
Reply/View Reply
Great ideas, and designs
Posted by: Janet Dykes on April 06, 2021
Reply/View Reply
fun ideas and good designs by all!
Posted by: Kimberly Cox on April 06, 2021
Reply/View Reply
All 3 look great!
Posted by: Keith Carpenter on April 06, 2021
Reply/View Reply