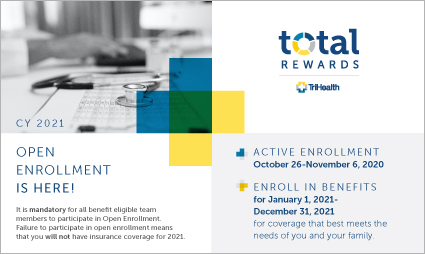 01 November, 2020
Open Enrollment for your 2021 benefits is going on through Friday, November 6. All team members must make benefits elections to maintain benefits for calendar year 2021.
Any team members who do not participate in this Open Enrollment, will not have benefits coverage through TriHealth from January 1, 2021 to December 31, 2021.
We are pleased to be able to offer a TriHealth facility / provider tier with reduced co-insurance, Medical Therapy Management, and health navigation. With these enhancements, you will find better care, better health, and better value.
Visit HRCentral for Open Enrollment Resources
Make sure you are prepared to make benefits enrollment choices that suit you and your family by reviewing the comprehensive benefits information available on
HRCentral
.
Review the Totally Yours Total Rewards Guide for medical, dental and vision plan rates, flexible spending accounts limits and highlights on the Total Rewards package.
Read the What's New and Changing flyer to understand at-a-glance what's changing for 2021.
Watch a Recorded Benefit Forum to help you understand your benefit options.
Find the Help You Need
We want to support you as you make decisions about benefits that impact your personal and financial wellbeing.
Visit a socially-distanced computer lab if you have computer access needs or want additional support to complete the online enrollment process. Due to social distancing, space will be limited. Please do not to delay enrolling in your benefits.
| | | |
| --- | --- | --- |
| Computer Labs | Date | Location |
| Bethesda North | Monday, October 26 at 2-6pm | Creekside Computer Lab G & H |
| Good Samaritan | Tuesday, October 27 at 6am-1pm | Computer Lab Room 552.4 & 552.7 |
| McCullough-Hyde | Wednesday, October 28 at 9am-2pm | Computer Lab |
| Good Samaritan | Thursday, October 29 at 2-6pm | Computer Lab Room 552.4 & 552.7 |
| Bethesda North | Friday, October 30 at 6am-1pm | Creekside Computer Lab F |
| Good Samaritan | Saturday, October 31 at 10am-2pm | Computer Lab Room 552.4 & 552.7 |
| McCullough-Hyde | Tuesday, November 3 at 1-6pm | Computer Lab |
| Good Samaritan | Tuesday, November 3 at 7am-1pm | Computer Lab Room 552.4 & 552.7 |
| Bethesda North | Wednesday, November 4 at 7am-1pm | Creekside Computer Lab G & H |
| Bethesda North | Friday, November 6 at 8am-5pm | Creekside Computer Lab G & H |
| Good Samaritan | Friday, November 6 at 8am-5pm | Computer Lab Room 552.4 & 552.7 |
| McCullough-Hyde | Friday, November 6 at 8am-5pm | Computer Lab |
Overall Rating:
Comments:
I've clicked on "view reply" as I seem to be having trouble like many other people. When I log on to HR central to review my benefits there doesn't seem to be a link to benefit selections. I could rate this 2 stars if I could actually see my benefit selections.
Posted by: Christine Braun on 24 November, 2020
Reply/View Reply
I've clicked on "view reply" as I seem to be having trouble like many other people. When I log on to HR central to review my benefits there doesn't seem to be a link to benefit selections. I could rate this 2 stars if I could actually see my benefit selections.
Posted by: Christine Braun on 24 November, 2020
Reply/View Reply
I AM STILL HAVING PROBLEMS ON THIS SITE WITH MY BENEFITS
Posted by: Mary Allen on 23 November, 2020
Reply/View Reply
I hope the deadline is extended due to the numerous technical issues that I and others had to endure. This has been a very stressful process, especially when added to the current stress of working under the current pandemic. I was not able to complete due to my home going down before I could verify my selections. Please advise.
Posted by: Team Member on 07 November, 2020
Reply/View Reply
Is there a link? This is very frustrating.....
Posted by: Tiffannie Rebhun on 06 November, 2020
Reply/View Reply
How do we decline benefits?
Posted by: Lynn Hecker on 06 November, 2020
Reply/View Reply
I have tried various computers in my home and I am unable to review and select my benefits. This has been a problem in the past and apparently, continues to be.
Posted by: Julie Lawler on 05 November, 2020
Reply/View Reply
Have been trying to call for a couple of days to speak to someone and no response. Now I have to come in and personally speak to someone on my day off.
Posted by: Debbie Wical on 05 November, 2020
Reply/View Reply
Tomorrow is the last day but there is an error message saying that there is a technical problem with the link and then of course no answer at HR. Not great when there is only one day left to enroll. Very hard for those who are trying to care for patients and then are failed by technology on limited time!
Posted by: Danielle Henderson on 05 November, 2020
Reply/View Reply
Long time on hold when call over the phone Left a message, I got a call back in the morning, but poor reception in the hospital, so I missed the call, the reply voice message sid call to the same number, so start the same lengthy and frustrating process It tells me there is lack of commitment with the employees and poor customer service
Posted by: Marco Callirgos on 05 November, 2020
Reply/View Reply
not user friendly, followed steps to change information regarding contact information, phone numbers ect. it would be allow me to do it
Posted by: Team Member on 05 November, 2020
Reply/View Reply
links do not work. how are we supposed to enroll in benefits?? very frustrating. Tried calling and can't get through either.
Posted by: Tracy Teetz on 04 November, 2020
Reply/View Reply
very frustrating, keep getting the message to log on Microsoft for benefits, need help and resolution.
Posted by: Team Member on 03 November, 2020
Reply/View Reply
10 years ago you signed in and with a few clicks were able to re-up your same benefits, review them, change them if necesary and then sign off on them, now you need a masters in computer science to get through this jungle. Good Grief!
Posted by: Tony Mittermeier on 30 October, 2020
Reply/View Reply
shows another employee information when I try to log into benefits. Even after restarting the computer. Very poor system
Posted by: Thomas Robinson2 on 29 October, 2020
Reply/View Reply
I keep getting the message to log on Microsoft when I try to sign up for benefits.
Posted by: Lynette Alexander on 29 October, 2020
Reply/View Reply
Have tried for 2 days to sign up. Keep getting a message that the website is down for maintenance.
Posted by: Pamela Conger on 29 October, 2020
Reply/View Reply
Sends me to a microsoft log-on when I try to sign up for benefits????
Posted by: Kelly Brown on 28 October, 2020
Reply/View Reply
Can't get to page to enroll. Have made multiple attempts since Mon. WHERE IS THE LINK?????
Posted by: Team Member on 28 October, 2020
Reply/View Reply
Not finding any results when selecting HRCENTRAL link. Page is empty. Does this irk off of a tablet or phone?
Posted by: Tim Cyrus on 27 October, 2020
Reply/View Reply
Says no documents avail when I sign in to HR to view 2021 Benefits
Posted by: Sheree Steinmetz on 20 October, 2020
Reply/View Reply
I am unable to open the link to watch the recorded benefit forum. It says no documents available
Posted by: Anne Casavant on 15 October, 2020
Reply/View Reply