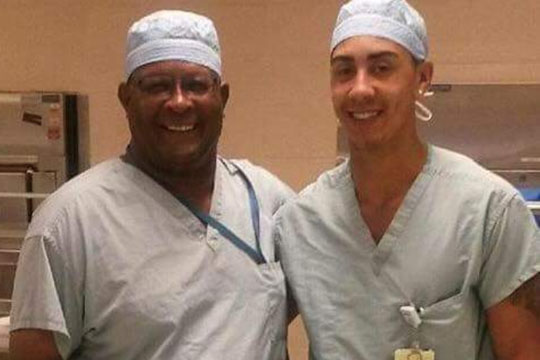 29 June, 2020
Last Chance to Earn $5,000 towards your education – Deadline is July 8!
How much of an impact can the Good Samaritan Medical and Dental Staff Scholarship make? Just ask Mitchell Crooks, a two-time recipient.
Mitchell, pictured with his late father, Bill Crooks, has been a team member at Good Samaritan since 2015, working in the instrument room in Central Sterile Supply. With ambitions to "move up the ladder" and an interest in becoming a Surgical Technician, Mitchell saw the opportunity for the scholarship and didn't hesitate.
"I was always wanting to do the Surgical Technology program at Cincinnati State, and receiving the scholarship allowed me to start a lot sooner. It has helped tremendously with not having the financial burden of college. I am very grateful!"
Mitchell has completed the two-year program and earned his Associate of Applied Science Degree as well as passed the exam to become a Certified Surgical Technologist. Just one month ago, Mitchell earned a position as a Surgical Technician at Good Samaritan and is thrilled with this opportunity.
"I'm looking forward to being able to help patients who are having surgery. It's how I want to help people," Mitchell says. "The Medical and Dental Staff Scholarship has been so helpful. I would recommend it to anyone as it can make a difference in your life."
To see if you are eligible to apply, please read the details below:
Good Samaritan Medical & Dental Staff, in partnership with Good Samaritan Foundation, is offering an exciting scholarship opportunity of up to $5,000 to Good Samaritan team members who wish to advance their clinical education.
Applicants must be a standard full-time or standard part-time team member of Good Samaritan Hospital with a minimum of two years of employment at TriHealth. Team members must be pursuing a degree or certificate in a clinical-based field to gain new responsibilities at TriHealth. Areas where the scholarship is applicable:
Respiratory Therapy

Medical Assistants

Surgical Technicians and Surgical Assistants

Ultrasound Tech/Sonographer

EKG Technician

Phlebotomy

Radiology Tech
Additional requirements include:
Team member must be in good standing.

Scholarship recipient must work at TriHealth for 2 years after completing degree/certification if position is available within their area of study.

Receive a grade of "C" or better, or Grade of "Satisfactory" or higher in Pass/Fail course in order to receive awarded amount.

Courses must be taken at a school, college or university with accreditations recognized by the Council for Higher Education Accreditation and the U.S. Department of Education.

Applicant can be awarded up to $5,000 as long as program cost is as much or more than the given amount.
Applications complete with essays should to be sent to Nancy Herzog at Good Samaritan Foundation by July 8, 2020. Applications may be emailed to Nancy_Herzog@trihealth.com, sent via interoffice mail, or via fax to 862 3788 attn: Nancy Herzog.
Overall Rating:
Comments:
Congratulations, Mitchell!
Posted by: Mary Thesken on 09 July, 2020
Reply/View Reply
So Proud! You're doing big things Mitchell! I know your Daddy is shining down on you. Love your Mom...Sharon Evans
Posted by: Sharon Evans on 08 July, 2020
Reply/View Reply