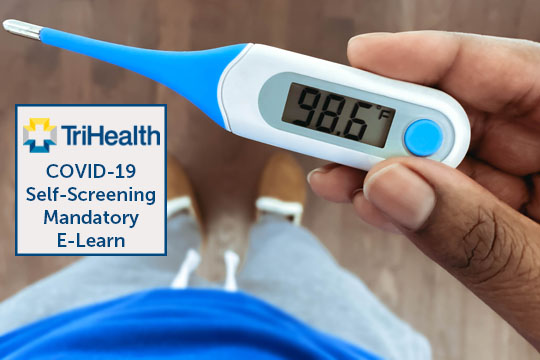 14 July, 2020
COVID-19 Self-Screening Mandatory E-Learn, July 17 Deadline
In Ohio and across the nation, economies are re-opening, which means many of us are beginning to cautiously live our lives during an on-going pandemic.
As we've recently seen in Hamilton and Warren counties, the risk of COVID-19 isn't going away. Until we develop herd immunity or a vaccine, we must vigilantly continue with precautions like social distancing, consistently wearing PPE, using good hand hygiene, and testing and quarantining when you believe you're sick.
At TriHealth, we are reviewing our policies and processes to best respond to changing expectations as we balance getting back to "real" life and staying safe and healthy.
As of Monday, July 13, all team members* began to self-screen for COVID-19 symptoms. This is a transition from team member screening stations in our locations to self-screening for all team members.
We are making this change because patients are screened for COVID-19 during a visit, and we believe that you are familiar with the screening process and can easily self-monitor your health while we are not experiencing a COVID-19 emergency.

By July 17, you must complete the mandatory 15-minute online TriHealth Learn training, WBT20: COVID-19 Self-Assessment Screening, to ensure you are accurately self-screening.
How to Access TriHealth Learn:
All TriHealth leaders, team members, and TriHealth medical staff must complete this e-Learn on TriHealth Learn. They should not complete this assignment on www.trihealth.com/elearning. Any leader, team member, or TriHealth medical staff who does so will be instructed to return to TriHealth Learn to complete the assignment before the due date.
NOTE:

Independent contractors, non-TriHealth Medical Staff and agency staff

should access the training through the URL:

www.trihealth.com/elearning > TriHealth eLearning >

NEW! COVID-19 Self-Assessment Screening
If you don't have access to a computer, stop by the Good Samaritan Hospital computer lab at 552.7 and 552.4 or the Bethesda North Hospital computer lab in Creekside G on July 2, July 6, or July 10. If you can't make these dates, there are computers available in the Good Samaritan and Bethesda North libraries.
Thank you for all you are doing as we adapt to the new realities of getting back in business during an on-going pandemic. Over the next few months, we will continue to monitor the pandemic and our volume and be proactive in adjusting to a changing healthcare landscape.
*Team members on leave of absence are exempt from the training until they return to work.
Overall Rating:
Comments:
Is it true Trihealth will give each employee a packet that includes a free thermometer and mask?
Posted by: Mary Munninghoff on 13 July, 2020
Reply/View Reply
YOU MIGHT BE ABLE TO GET ONE FROM THE PHARMACY OR GROCERY STORE
Posted by: Dawn Rupp on 02 July, 2020
Reply/View Reply
OK
Posted by: Dennis Romans on 02 July, 2020
Reply/View Reply
Where can I get a thermometer?
Posted by: Linda Crisp on 01 July, 2020
Reply/View Reply
Where can I purchase a thermometer?
Posted by: Sharon Williams on 01 July, 2020
Reply/View Reply
I am not able to buy thermometer in the local store. Should I stay home on July 13?
Posted by: Robert Krzeski on 01 July, 2020
Reply/View Reply
Please provide some info about how to get a thermometer
Posted by: Linda Chatterjee on 01 July, 2020
Reply/View Reply