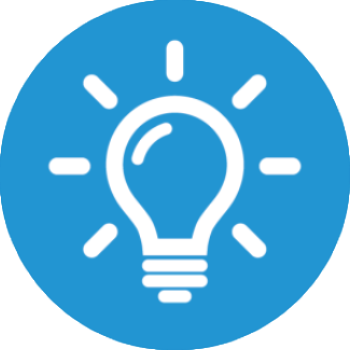 27 July, 2020
Get a jump start on the new fiscal year and submit your bright idea now! The Innovation Center is excited to hear the ideas you recently implemented or plan to implement soon. Many innovative ideas have been generated during these trying times, and we look forward to recognizing the creative work of our team members. All team members are required to complete at least one Bright Idea this year.
The FY20 Bright Ideas were a great success, with many of our team members finding creative ideas to respond to the COVID-19 crisis.
Results:
•
467 ideas submitted in 9 weeks
•
40% shared with leaders for consideration
Types of Ideas:
•
32.4% Workflow Improvements
•
19.1% Supply Conservation
•
11.8% Team Member Support
Sample Ideas Include:
•

Gown saving from OR packs
•

Guest Ambassadors register pts
•

Market for quick groceries
•

Epic hard stop screening
•

Staff photos on neck lanyards
•

Increase Dial-A-Flow IV use
•

Zoom nutrition education
•

ProAir inhalers reserved in ER
Maternity discharge waiting area
Bright Ideas allows us to tap into the brainpower of our team members and provide a centralized location for actionable ideas and innovative solutions.
Learn more about Bright Ideas here.
Overall Rating: