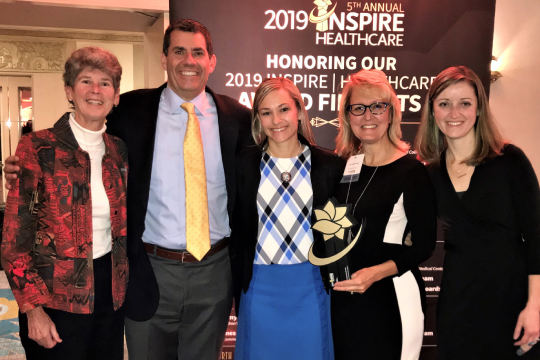 07 November, 2019
Congratulations to Terri Hanlon-Bremer, Vice President of Corporate Health, Judd Weis, President and CEO at The Cincinnati Consulting Consortium, and the Bi3-supported Sustainable Behavior Change through Consumer Sciences project team for their win of the Health Collaborative's 2019 Inspire Healthcare Technology Award.
The project was selected among several finalists from competing health systems for the application of technology as a solution to ongoing health challenges. The project designed and piloted a consumer-centric approach to TriHealth's Corporate Health coaching.
About the Project
The project leveraged multiple data-sets to create a full picture of patient behavior and characteristics. The team then matched the data with psychographic segmentation, an approach to more deeply understand patients' motivation and priorities. Utilizing this information, TriHealth Corporate Health developed a consumer-centric approach to health coaching and piloted it with 2,000 patients at three corporate partners. The coaches were able to engage with patients knowing why they make the choices they make, dramatically impacting engagement and the delivery of improved health outcomes.
Measurable Results
The program resulted in:
10.4% increased healthy behaviors
27.5% improvement in the elimination of health risks such as smoking, inactivity
39% improvement in the number of risks eliminated
26.9% improvement in program satisfaction
$621,000 in health savings for one employer in a single year (a 5:1 payout on their investment)
Along with Hanlon-Bremer, TriHealth's team on this project included Will Groneman, Rob Dunham, Lori Slusser, Moe Swift, Tom Hammergren, and Mufaddal Frosh.
The team collaborated with the Cincinnati Consulting Consortium, General Electric Aviation, and Cincinnati Public Schools.
Overall Rating:
Comments:
Job well done!
Posted by: Catrina Spicer on 29 November, 2019

Congratulations Terri and her team
Posted by: Carla Ovia on 20 November, 2019

Congratulations to Terri & her team!!
Posted by: Mitzi Crafton on 18 November, 2019

Great work! Congratulations!
Posted by: Kimberly Potter on 18 November, 2019

Congratulations!!
Posted by: LaShaunda Jones on 15 November, 2019

That is such a great outcome, with a positive way to improve patient care and outcome and for TriHealth. So impressive!!
Posted by: Gina Elliott on 14 November, 2019

I would like to know more about this endeavor to see if it can be applied with our patient population in new patient appointment no shows and cancellations. Specifically with the lower socioeconomic population.
Posted by: Kim Blanton on 13 November, 2019

So proud of this team and excited about scaling the project!
Posted by: Jill Miller on 13 November, 2019

Great job!
Posted by: Mardia Shands on 11 November, 2019